Home » Blog » When Should You Get LASIK?
When Should You Get LASIK?
Posted by: Georgia Center for Sight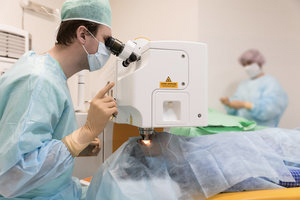 Are you considering getting laser eye surgery? LASIK surgery is the most common form of laser vision correction, a surgical procedure using a laser to reshape the eyes. You may be wondering when the best time to get LASIK is. There is no "perfect age" to get LASIK, but the best age to get laser eye surgery is between twenty and forty. During this time, your eyes are most likely to be stable.
While the minimum age for LASIK is eighteen, young adults are encouraged to wait until their mid 20s because their prescription might still be changing.LASIK will only be performed and will be most effective once the patient has a consistent prescription. This is why the procedure is most recommended at this age.
However, your eyes don't stop changing in your twenties. When a person reaches the age of forty, their eyes begin to change again. Most people have began using reading glasses during this time due to Presbyopia (also known as Farsightedness). LASIK can not change Presbyopia, but adults can choose to have another laser eye surgery called Monovision. This procedure corrects one of the patient's eyes for near vision and the other for distance vision.
Your eyes change once again when you reach 60. At this age, risk for cataracts increases. However, if you are not at risk for cataracts, LASIK still may be a great option for you.
Contact Us
Although age influences LASIK candidacy, it is not the only deciding factor. If you have a stable prescription and are considering LASIK, contact us to see if you're a good candidate. With our main office in Athens and satellite offices in Lavonia, Elberton & Lake Oconee, The Georgia Center for Sight delivers the highest quality vision care to residents all over north and central Georgia.
---