Home » Blog » 5 Tips to Protect Your Eyes This Summer
5 Tips to Protect Your Eyes This Summer
Posted by: Georgia Center for Sight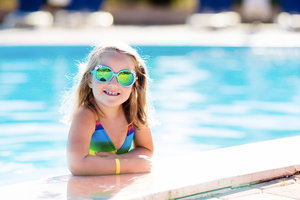 Summer is in full swing, which means you are spending lots of time soaking up the sun and enjoying the warm weather! Here at Georgia Center for Sight, we want to give you helpful tips on how to protect your eyes in the summer. Eye protection safety is really important, especially during these summer months where the sun stays out longer and we soak up every minute.
Here are some summer eye care tips:
Wear sunglasses- This might seem like a simple idea, but wearing sunglasses really helps protect your eyes from the UV rays and can prevent your eyes from getting sunburnt as well.

Avoid chemicals- If you jump into the pool to cool off after tanning, and the water starts to burn your eyes, get out immediately. This most likely means that the chemicals in the water are not balanced and it can be damaging to the eyes if they are exposed to it for too long.

Wear goggles while swimming- This can also help prevent those pesky chemicals from affecting your eyes and can ultimately help your eyes stay healthy and protected. It protects not only from the chemicals in the pool, but also from any germs that may be lurking the water.

Eat well and drink water- Your diet really does have an impact on your vision, and eating healthy promotes healthy eyes, to keep your vision sharp all summer long. Staying hydrated is also important to keep your body working at its best during these hot summer months.

Stay rested- Another simple, yet crucial tip is to get enough sleep every night. Your eyes depend on those hours of rest every night to recharge and rejuvenate. We know summer is a busy time with lots of activities going on, but in order to perform your best, make sure to sleep well at night.
These eye protection safety tips will help you stay safe and protected from the sun and other factors all summer long!
---