Home » Blog » Preparing for LASIK During the Holidays
Preparing for LASIK During the Holidays
Posted by: Georgia Center for Sight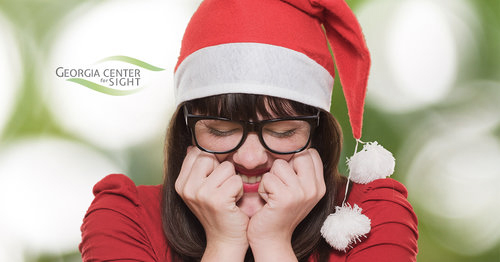 If you have LASIK eye surgery scheduled over the holiday season, you are in for a treat. You get to say goodbye to those pesky contact lenses and glasses. As the new year rolls in, you will start it off fresh with clear, crisp vision!
The even better news is that your LASIK surgery doesn't have to complicate your holiday plans! Here are some tips and good things to know before you get you surgery so you can know exactly what to expect.
Be prepared for LASIK eye surgery:
With contacts: Make sure to stop wearing your contacts 2-4 weeks before the surgery, depending on what type of lenses you wear. Be careful to follow the doctor's instructions specifically so you don't interfere with the LASIK process, and you can make the most of your holidays.
Makeup, lotion and perfume can also cause complications or infections after LASIK, so doctors recommend that you stop use of all of these products at least 24 hours before the surgery. Using these cosmetic products around the eyes can increase infection from the surgery.
After the surgery, your vision may be blurry, so it is best to find transportation home from the LASIK surgery for your safety and comfortability.
What should I expect after LASIK?
Once the procedure is finished and you head home, you will sleep with protective eyewear overnight, and you will need to come back to the doctor's office the next morning. You will also meet with the doctor periodically throughout the following months to make sure everything is going smoothly.
Your eyes will be dry after the surgery, though they might not feel like it, so it is important to use the eye drops that the doctor will prescribe. These drops will keep your eyes moist and also help prevent inflammation and infection. Don't be alarmed if your vision is a little blurry or foggy at first, as most patients see major improvements in their vision in the first few days following the procedure.
Most patients prefer to relax and recover from the surgery at home, so make sure to give yourself time to rest and recover before the holiday season gets busy.
With Georgia Center for Sight, the LASIK cost is affordable and can prepare you for a fantastic holiday with improved vision to enjoy time with friends and family!
---