Home » Blog » New Year's Resolutions for Healthy Eyes
New Year's Resolutions for Healthy Eyes
Posted by: Georgia Center for Sight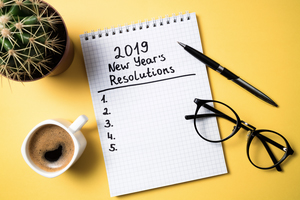 Happy New Year! The new year is an exciting time of bettering yourself and oftentimes creating a healthier lifestyle. If you are looking to make a few more New Year's resolutions at the start of 2019, we have a few resolutions to add to your list to keep your eyes healthy and happy all year long.
Schedule an annual eye exam- If you want to make the most out of your year, make sure you are able to see it! Scheduling an eye exam is so important to keep your eyes healthy and your vision clear. If you don't get an annual check up on your prescription, you might find that your vision is becoming blurry or causing headaches. The eye doctors in Athens GA can help you by examining your eyes at the start of the year to make sure that your prescription is right for you.

Wear sunglasses- When the sun is out, your shades should be on! Sunglasses really do offer protection from those harmful UV rays and can protect your eyes to keep them healthy. Even on overcast days when you don't think the sun is shining bright, put on those shades and protect your eyes from the rays you can't see. If you are exposed to an excess of UV rays, it can cause cataracts or macular degeneration, which can lead to bigger problems down the road. This new year, protect your eyes by bringing out your fashionable sunglasses, even on those cloudy days.

Exercise- Did you know that exercise really does help keep not only your heart healthy, but it also can work to keep your eyes healthy too! There have been many studies that have found that active lifestyles can help prevent cataracts from developing and can improve the overall health of your eyes. If you've already added exercise to your New Year's resolutions, now you have one more reason to get active!

Eat eye-healthy foods- Ever heard the phrase "You are what you eat?" Although this might not necessarily be true, what you eat really can have an influence on the health of your eyes. That is why it's important to fuel your body with eye-healthy foods like kale, eggs, carrots, oranges and veggies. Eating healthy foods can decrease your risk for eye issues in the future.

Drink more water- You probably hear this one all the time, but drinking more water has tremendous effects on your body. Drinking 8 glasses of water a day not only fuels and energizes your body, but it also moistens your eyes to keep them functioning properly and to avoid irritation.

Avoid smoking- Studies have shown that smoking increases the likelihood of degeneration in the eyes and this can lead to greater problems. Smoking can also lead to the development of cataracts in the eyes, so avoiding smoking can really help keep your eyes healthy.

Get LASIK- LASIK eye surgery corrects your vision, giving you clear vision with no pain, as the surgery is pain-free in almost every case. LASIK most likely prevents you from having to wear contacts at all in the future, which can be the cause for eye irritation or infection. Having LASIK surgery not only improves the quality of your vision, but it can contribute to the health of your eyes as well.
---