Home » Blog » Cost Benefit Analysis of Lasik
Cost Benefit Analysis of Lasik
Posted by: Georgia Center for Sight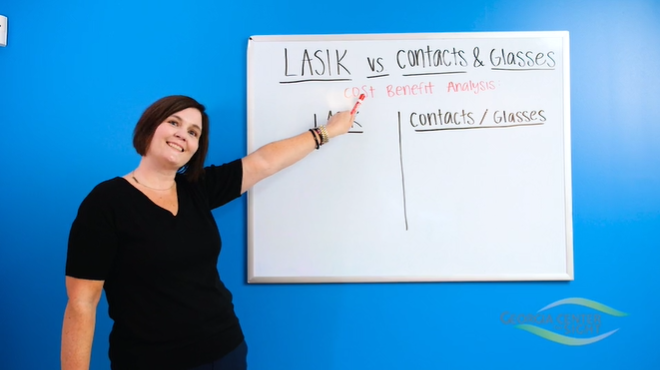 Many individuals doubt the actual benefits of LASIK eye surgery, especially in regards to the cost. Our customers often ask, "Is LASIK worth it?" and "What are the benefits of LASIK eye surgery?" Surprisingly, LASIK eye surgery is extremely cost effective, and has high cost benefits. To prove it, see Georgia Center for Sight's very own cost benefit analysis below, and why you should consider having this life-changing procedure done.
For contacts and glasses, average annual pricing includes:
Contacts: $250

Glasses: $200

Contact Supplies: $150

Eye Exam: $150
= $750
Now, multiply that total of $750 by 10 years
10 x $750 = $7,500.
Even if someone has insurance, these high costs are still common for most. However, there is a simple solution that will not only help your wallet, but will free up your schedule from ever having to go to an eye appointment again!
The cost of LASIK eye surgery at Georgia Center for Sight is:
The main reason why LASIK eye surgery is so much more cost effective is because it is a one-time procedure. Instead of visiting the ophthalmologist every year, after LASIK eye surgery, you no longer need to buy contact lenses, glasses, supplies, etc. Imagine the possibilities of a hassle-free life without the expense and annoyance of needing contacts or glasses everyday. Contact Georgia Center for Sight today to make that dream a reality! Call us at 706-546-9290, or visit our website for more information.
---