Home » Blog » March is Save Your Vision Month
March is Save Your Vision Month
Posted by: Georgia Center for Sight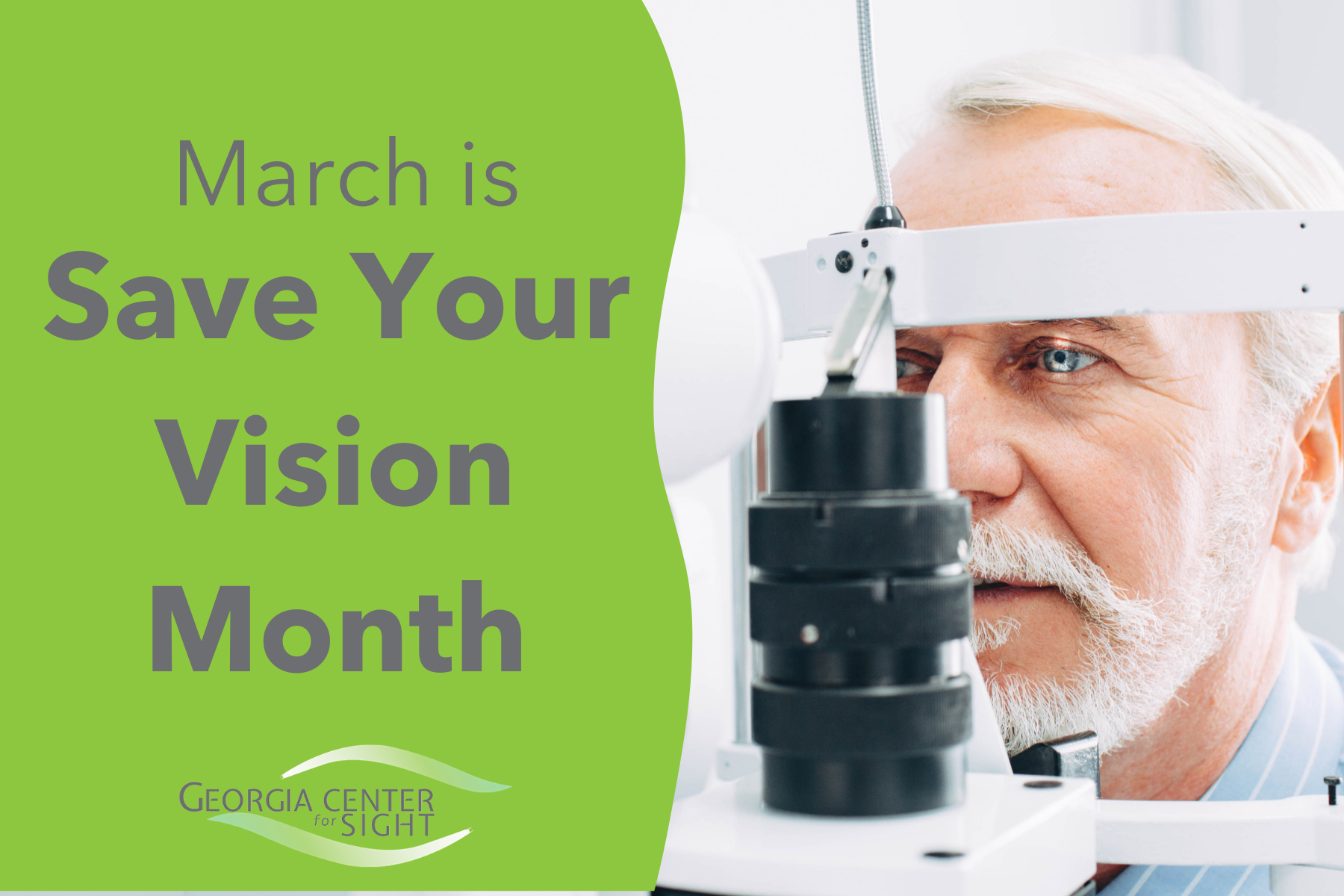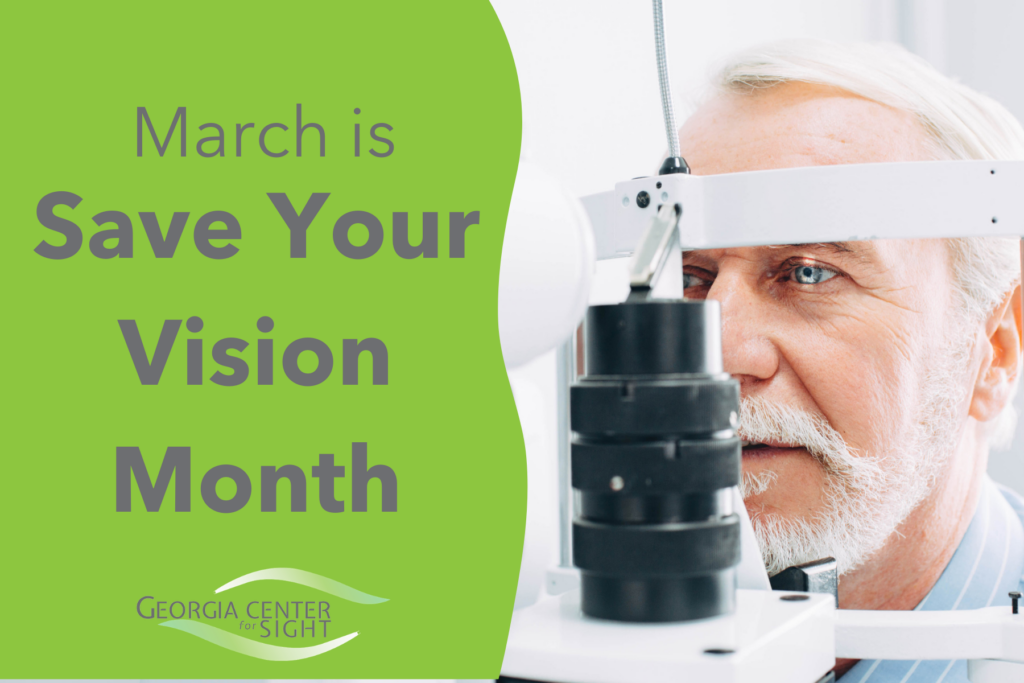 March is National Save Your Vision Month. At Georgia Center for Sight, we're celebrating by spreading awareness about the importance of taking care of your eyes. Save Your Vision Month was started by the American Optometric Association (AOA), which encourages getting regular eye exams and thoroughly checking for problems that could affect your vision. It's important to remember that having good vision does not mean that your eye health needs no attention. If there are problems left undiagnosed, your vision could be impaired down the road.
Over 40 million Americans are at risk for developing low vision or blindness due to age-related disease. Some problems that arise include cataracts, diabetic eye disease, glaucoma, and age-related macular disease. Many of the symptoms that come with these conditions can be prevented, and the impact on your vision could be lessened if you catch them in time with a thorough eye exam.
Eye exams are not just meant for those who feel they need glasses or contact lenses. There are many important components of an eye exam that help your doctor monitor your vision and detect any vision loss that could be caused by underlying conditions. Your eye doctor evaluates how your eyes work together and check for any diseases. They may also use diagnostic eye drops that aren't necessarily enjoyable but are an important part of your eye exam that helps your doctor thoroughly evaluate your eyes. Sometimes an eye doctor is the first to inform their patient about health issues that they were previously unaware of, like diabetes and high blood pressure.
Annual eye health evaluations are necessary for maintaining the health of your eyes. People of all ages should have an examination annually, but especially those with risks of diseases due to factors such as family history or preexisting conditions. The Georgia Center for Sight aims to provide patients with the best care available, but that isn't possible if patients don't take the first step to make an annual appointment for an exam.
Helpful tips for protecting your vision:
Wear sunglasses on sunny days or days with a high UV index to prevent cataracts, macular degeneration, and more eye conditions.

Stop using tobacco products as they can be detrimental to your vision over time.

Take care of your contact lenses and wear them as directed. Wearing contacts while you sleep or not cleaning them properly can result in issues such as painful corneal ulcers.

Maintain a healthy diet with plenty of fruits and vegetables to get the vitamins and nutrients that your eyes need to function correctly.

Exercise regularly in order to prevent diabetes and high blood pressure. This also increases the oxygen and blood flow in your body, which your eyes require.

Reduce your screen time and invest in blue light glasses to protect your eyes when you have to look at your phone, television, or computer. Consider changing your computer and phone settings to dim the lighting in darker environments.
 National Save Your Vision Month is an initiative started by the AOA that has helped spread awareness about taking care of your eyes. You can take part in this initiative simply by scheduling your own eye exam and encouraging others to do the same. Visit the Georgia Center for Sight website to find patient resources and information regarding the services we provide. Contact us today to schedule your annual eye exam and Save Your Vision. 
---