Home » Blog » July Is Dry Eye Awareness Month
July Is Dry Eye Awareness Month
Posted by: Georgia Center for Sight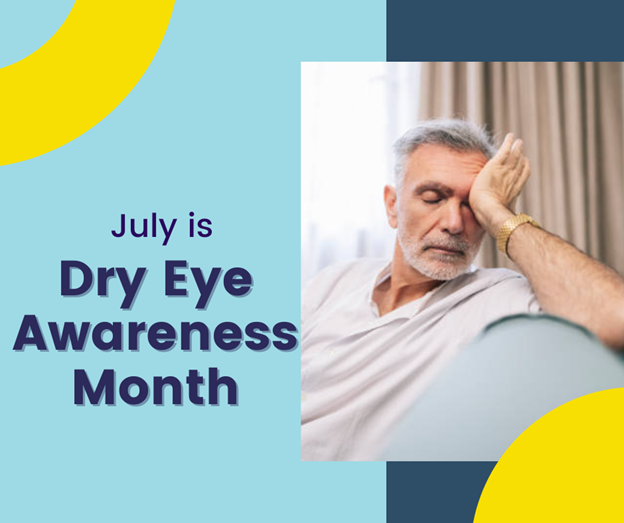 In 2005, the Sjögren's Foundation asked Congress to officially declare July "Dry Eye Awareness Month" to help increase dry eye awareness while educating people about the symptoms and treatment options for dry eye, and the Prevent Blindness organization also declared July as Dry Eye Awareness Month.
We want to join the foundations to bring awareness about dry eye symptoms and their possible causes. According to the National Eye Institute (NEI), nearly 16 million Americans have dry eyes. Dry eye condition occurs when there is not enough tear film produced, the tear film is not draining properly from the eye, or the tear film is not the quality needed to maintain the eye's health.
Risk Factors for Dry Eye
Dry eye is relatively common, and there are many risk factors for dry eye, including:
Inflammation of the eyelids
Being 50 years and older
Medical conditions such as Sjogren's syndrome, rheumatoid arthritis, and certain other autoimmune diseases
Women who are pregnant, on certain types of birth control, hormone replacement therapy, or experiencing menopause are likely to have dry eyes.
Environmental conditions, such as allergies or a dry climate
Certain medications
What Are Dry Eye Symptoms?
Patients with dry eye complain of:
Gritty, sandy feeling
Itchiness
Extreme sensitivity, especially to cigarette smoke
It feels like particles are in the eye
Redness and inflammation
Transient blurry vision
Stringy mucus
Increased sensitivity to light
If you have these symptoms, you may have dry eye, but other conditions may also cause them. A thorough evaluation by your eye doctor is needed to determine the exact cause of these symptoms.
How Can I Prevent Dry Eye?
There are several ways to manage dry eye symptoms.
Stay Hydrated – Hydration is vital! Drink plenty of water to stay hydrated for your overall health, which is excellent for your eyes.
Protect Your Eyes – Protecting your eyes from the wind and dust is essential while enjoying a bike ride, hiking, or playing golf outside. Also, don't forget to BLINK while using a computer or digital device!
Sleep – Get plenty of sleep!
How Is Dry Eye Treated?
There are many options for the treatment of the dry eye. The dry eye condition is often misdiagnosed and can cause damage to the front of the eye. If you think you may have dry eye, call us TODAY to schedule an appointment to determine the best treatment option.

References: American Academy of Ophthalmology, American Optometric Association, Sjögren's Foundation, National Eye Institute, and Prevent Blindness. This blog provides information and discussion about eye health and related subjects. The content provided within this blog and any linked materials are not intended and should not be considered medical advice. If the reader or any person has a medical concern, they should consult with an appropriately licensed physician.
---