Home » Blog » Women's Eye Health and Safety Month
Women's Eye Health and Safety Month
Posted by: Georgia Center for Sight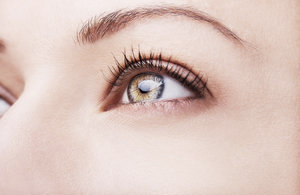 April has been designated as Women's Eye Health and Safety Month in an effort to educate women about the steps they can take today to help preserve vision in the future.
Did you know that women are more likely to contract eye diseases than men? Women live longer, are affected by hormonal factors and tend to have age-related macular degeneration, cataracts, and glaucoma.
It is critical that women receive eye exams regularly to ensure healthy vision. Eating a well-balanced diet and getting regular exercise also contribute to good eye health.
Take a look at the top 10 nutrient-rich foods to boost eye health.
Fish: many fish contain rich sources of omega-3 fatty acids

Nuts and Legumes: contain omega-3 and vitamin E

Seeds: have high sources of vitamin E, which can protect from age-related damage

Citrus fruits: rich in vitamin C

Leafy green vegetables: contain both lutein and zeaxanthin

Carrots: rich in both Vitamin A and beta carotene

Sweet potatoes: great source of vitamin E and beta carotene

Beef: has high levels of zinc, which aids in long-term eye health

Eggs: excellent source of lutein and zeaxanthin, as well as vitamins C and E, and zinc

Water: prevents dehydration and reduces symptoms of dry eye
Other ways to keep eyes healthy include investing in good sun glasses or wearing blue-light glasses when looking at a screen. Avoiding mascaras that have harmful chemicals in them and washing your makeup off each night will keep bacteria from getting into your eyes. Make sure to get your eyes checked regularly to ensure optimal health.
Schedule an appointment today! Call (800) 287-2519 or visit us online at www.GeorgiaCenterforSight.com.
The Georgia Center for Sight delivers the highest quality vision care to residents all over north and central Georgia.
---