Home » Blog » Is LASIK my only option?
Posted by: Georgia Center for Sight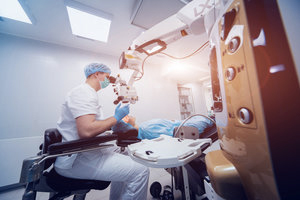 If you have explored the option of LASIK eye surgery and aren't quite convinced that it is the perfect solution for you, there is no need to worry. LASIK is not the only option. If you are still looking for a vision correction that will be effective and work with your eyes, PRK could be an option for you.
Here are some of the key differences between LASIK and PRK to help you determine which procedure is best for you.
PRK:
Fast procedure

Minimal feeling of pressure during procedure

Irritation commonly felt up to 3 days after procedure

Clear vision happens gradually as your eye heals
LASIK Eye Surgery:
Can feel pressure while procedure happens

Eyes experience sensations up to 3 hours after procedure

Results of clear vision happens about 24 hours after procedure

Possible complications with corneal flap, though rare
Both procedures are able to obtain the same visual results by treating nearsightedness, farsightedness and astigmatisms. With PRK, the outer layer is removed using an alcohol-based application to the cornea, and with LASIK eye surgery, the cornea is reached by lifting the flap to reach the sub-layer of the cornea.
So, if you are still asking "Is LASIK the only option for me?" The answer is no, there are other options that offer the same low-risk treatment to provide the visual results you are longing for!
---