Home » Blog » Georgia Center for Sight Participating in National Sight Week
Georgia Center for Sight Participating in National Sight Week
Posted by: Georgia Center for Sight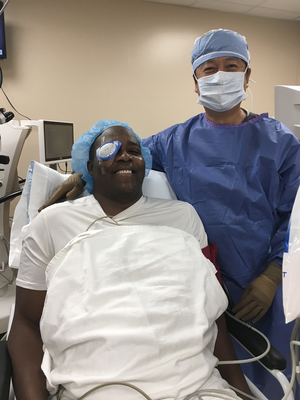 Dr. Dong Will Provide Free Cataract Surgery for National Sight Week
We're excited to announce our participation in the 3rd annual National Sight Week (October 14-20), sponsored by the American Society of Cataract & Refractive Surgery (ASCRS) Foundation.
Dr. Dong has said, "I could go to other countries and perform surgery, but there are people here that need it", and this is a chance for him to do just that here in our own community. During National Sight Week, Dr. Jing Dong will be performing free cataract surgery for patients in need right here in Athens!
National Sight Week is a celebration of helping our community. We love participating in this week because it gives us the chance to change someone's life, who otherwise couldn't afford these procedures. The ASCRS Foundation supports us by matching eligible patients with our surgeons to give them an opportunity to correct their vision.
Operation Sight is the ASCRS Foundation's domestic charitable cataract surgery program. The program helps uninsured patients who couldn't otherwise obtain cataract care on their own. Thanks to the charitable organizations and volunteer surgeons, this program is able to continue giving back to the community.
"The ASCRS Foundation's Operation Sight initiative offers a solution for Americans in need by enabling ASCRS member eye surgeons to perform charitable cataract surgeries in their own communities with administrative and financial support from the ASCRS Foundation. Together, we're working to end preventable cataract blindness in the United States," says Dr. Stephen Lane, MD, Domestic Initiatives, co-chair of the ASCRS Foundation.
Here at Georgia Center for Sight we are currently seeking potential eligible patients to receive free cataract surgery as a part of our participation in National Sight Week. Patients interested in being considered can visit http://ascrsfoundation.org/operationsight to apply. Potential candidates are encouraged to apply as soon as possible to complete the vetting process in time for surgery.
For more information on the charitable work we do at Georgia Center for Sight during National Sight Week, contact Clare Clifton at 706-546-9290 or [email protected]. For more information on Operation Sight and National Sight Week, visit ascrsfoundation.org.
The American Society of Cataract and Refractive Surgery Foundation is a 501(c)(3) organization founded in 2003. Through its projects in the United States and overseas, the foundation works to improve physician education and to deliver humanitarian eye care. ASCRSFoundation.org
---