Home » Blog » June Is Cataract Awareness Month
June Is Cataract Awareness Month
Posted by: Georgia Center for Sight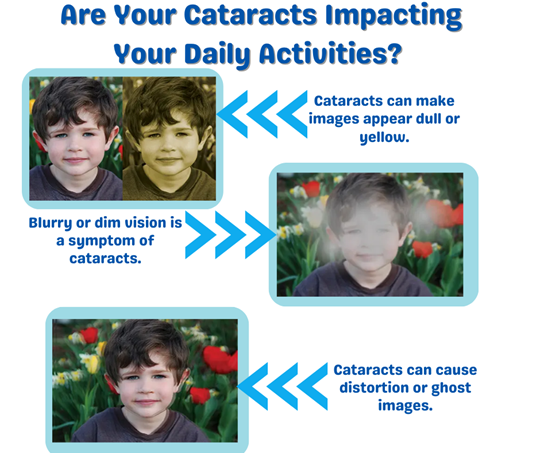 Prevent Blindness has declared June as Cataract Awareness Month to raise cataract awareness and educate patients about one of the leading causes of treatable vision loss in the United States. According to Prevent Blindness, over 25 million Americans will develop cataracts. As the population in America ages, the number of cataract cases will likely increase by 50 percent to 38.5 million by 2032.
Thinking of cataract surgery can be intimidating. The procedure is the most common elective surgery among Medicare beneficiaries in the United States. Multiple studies have shown its association with reduced risk of falling, improved quality of life, and fewer car crashes.
For patients who feel interference in their daily lives by their blurry or dulled vision, the procedure can significantly benefit their quality of life. Here are three questions to help determine if you or your family member diagnosed with cataracts decide whether it is time to talk with your eye doctor about cataract surgery.
Are your cataracts impacting your daily activities?
Symptoms of cataracts include blurry, dim, double vision in a single eye or yellowed vision. The lack of contrast and clarity can be difficult for driving, reading, cooking, or working.
Are you having difficulty driving safely at night due to your cataracts?
Cataracts can cause difficulty seeing in low-light settings, halos around lights, and impact driving at night safely. Advanced cataracts can even generate enough vision loss to fail the vision test required for a driver's license.
Are you having trouble enjoying your outdoor activities?
Cataracts can also increase sensitivity to glare, which can be especially troublesome for those who enjoy skiing, surfing, and other outdoor activities. They can also cause visual differences from one eye to the other, affecting the distance vision golfers need.
Cataracts are a very common but treatable disease. Discussing your cataract symptoms with your eye doctor is a great way to decide what is best for your eye health needs.
We Are Available To Help You With The Decision-Making Process
You are not alone! Our practice is available to help you make decisions before proceeding with cataract surgery. We want our patients to be fully informed and comfortable with the timing and details of this procedure. Call today to schedule a cataract evaluation and comprehensive assessment of your eyes to have a detailed discussion about your cataract surgery options.

References: American Academy of Ophthalmology, American Optometric Association, and Prevent Blindness
The content is researched and vetted by the American Academy of Ophthalmology, the American Optometric Association, and Prevent Blindness. This blog provides information and discussion about eye health and related subjects. The content provided within this blog and any linked materials are not intended and should not be considered medical advice. If the reader or any person has a medical concern, they should consult with an appropriately licensed physician.
---