Home » Blog » 5 Reasons Summer is the Best Time to get LASIK
5 Reasons Summer is the Best Time to get LASIK
Posted by: Georgia Center for Sight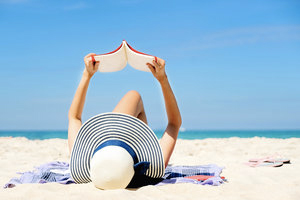 To borrow a phrase from Leslie Knope of Parks and Recreation, we definitely have the best eye doctors in Athens, Georgia; probably the country, possibly the world. And one of the procedures we're known for is LASIK surgery. A lot of people consider LASIK but never get around to it. Here are 5 reasons there is no time like the present!
Class is out

Whether you're a student or a townie, getting LASIK Athens style is better when there are fewer people around. We love living in a college town, who doesn't? But you can't deny that in the summer downtown is safer, the reckless jaywalkers are fewer, and all the lines are shorter. Not to mention the shorter wait time to schedule your free LASIK consultation!

More time for recovery

LASIK is a great choice for students taking the summer off or working an internship. Asking for a few days off from a part time employer is going to go a lot better than asking it from a professor. A lot of you professors are also enjoying some well-deserved respite. But even if you're not affiliated with academia at all, the Athens lifestyle tends to ebb and flow with the school year making summer the perfect time for LASIK recovery.

It's cheaper

This summer, Georgia Center for Sight is offering $500 off LASIK eye surgery in Athens, and $550 off for teachers. Add that to your free consultation and we're knocking down as many financial barriers as we can! This will hopefully make it easier to take the plunge for anyone concerned about LASIK cost.

Excuse to stay inside

Another thing about Athens in the summer is the nice cool breezes, or rather, the utter lack thereof. It gets hot okay? And even though you typically only need a few days to recover after LASIK surgery, those are days that you have a great excuse to stay inside with the AC and order in.

Free sunglasses

After most eye procedures, we will give you a pair of highly stylish sunglass goggles to protect your eyes for the first few hours, but once it is safe to take them off they are yours to keep for trips to the beach and driving with the top down in your convertible!
The bottom line is we want you to have healthy eyes, clear vision, and a great summer. Let us give you all three! Schedule your free consultation today!
---